Google has started to roll out it's mobile-first indexing algorithm and it could play havoc with your search ranking. This new setup was first teased about a year and a half ago and has been in testing ever since. If you were a site owner using Google's Webmaster tools, now called Search console, you were sent a message advising that the new search policy regarding mobile would be taking effect within a year. Well that day has come and if you aren't ready, your website may suffer the consequences.
So in easy-to-understand terms, what does this mean? Well, when users search on Google.com, it will show you results from websites that have optimized mobile pages first. If anyone that has a website does not have an optimized mobile version, then your site may get buried deep within the search results. Horrifying if you depend on local searches.
In December of 2017, Google started to index a small number of sites that were mobile-ready. However, details on what properties of the site indexed were used is not available.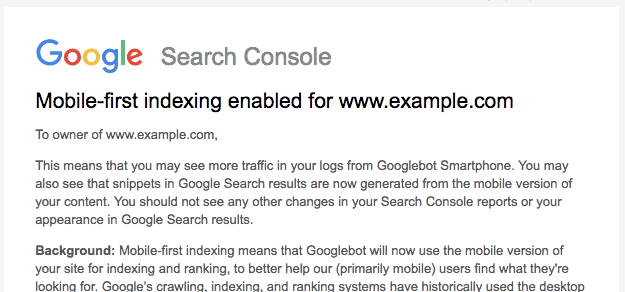 So this means Google will use the mobile version of the site, "for indexing and ranking, to better help our – primarily mobile – users find what they're looking for," according to the Google blog post. Google advises that since 2015, the majority of Google users are running searches via their mobile devices, this is the reason for this new initiative in mobile-first indexing. Google also noted that the results will only contain one index, not a separate index for desktop and mobile results.
As of this writing, only the first wave has started, but it's only a matter of time before most sites will be mobile-first indexed within Google. Google did advise that desktop-only sites could still display high if they have fresh content, however, it is not recommended to have a desktop-only site. Search results will depend on mobile-ready sites no matter what Google says. They could say one thing but the algorithm will do another.
Stay up to date, and get your site mobile ready now because you may have problems with search results if you don't. Remember, if you need assistance with website design or SEO, don't hesitate to contact us.